Message from Current Students

Message from Current Students

Ilmor Juenge Filho (Brazil, 2020-2021)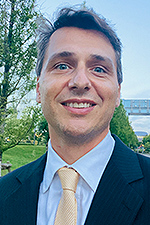 I will be eternally grateful to the tripod that finances, supports and makes the Strategic Management and Intellectual Property Rights Program (SMIPRP) possible: the World Customs Organization (WCO), Government of Japan, and Aoyama Gakuin University (AGU). My most sincere thanks for allowing me to join this Program, for making my dream of living and studying in Japan come true, and for connecting me to nine classmates who have become my friends.
The Master's Program is carefully tailored to leverage the abilities of Customs Officers, providing all the knowledge to forge future leaders in the Customs arena. Strategic, Relational and Practical skills are the core areas of expertise that are taught by the guidance of notable Professors. Additionally, due to the peculiar 2020 situation, we were able to acquire useful technological skills which allow us to conduct meetings and presentations via virtual platforms, preparing us for success in the new normal.
The SMIPRP is a magnificent example of the WCO contribution to connect and improve Customs around the globe. By allocating in the same room, for one year, ten voices from ten countries, the discussion and sharing of experiences are stimulated. The constant interaction among students, each of them from a different Customs Administration, with heterogeneous background and thrilling life story, feeds discussions with unique points of view. This diverse and learning-oriented scenario permits the students to acquire practical knowledge, while friendship and connection are built among Customs Officers.
From now on, it is part of us; no one can rip it off – we have lived in Japan. This last sentence says much more about us than the five words of it. It means that we have accepted the challenge; we have opened our minds; we have learned about a new culture and have changed ourselves, for better. Japan has a lot to teach; you just need to let it by putting barriers down, and opening yourself up. I feel blessed to be living this unique experience.
The combination of the professional knowledge acquisition, the life-experience in mystical Japan, and the interaction with nine stunning scholars makes the Program a once in a lifetime opportunity.
The history books will record the year 2020 as the Year of the Coronavirus, the pandemic that haunted the World. We cannot deny the facts; we are the COVID19 SMIPRP scholars. Nevertheless, instead of stigma, we embrace this fact as an emblem; a symbol that has a deep meaning and goes beyond the walls of AGU. We, as Customs Officers, have the daily obligation to conduct our duties in an agile, practical and uninterrupted manner, fulfilling societal expectations, providing service to the state. We do not have an option - we cannot stop. Amid this spirit, with responsibility and professionalism, the SMIPRP's tripod managed to make the 2020 Program possible, adapting and updating the Program where necessary while facing unprecedented challenges. The continuity of the Program during the 2020 circumstances, indeed, illustrates the customs environment. When our year on this Program ends, our batch's label will remain, a symbol of resistance, perseverance and continuity.
---
Mengistu Tefera (Ethiopia, 2020-2021)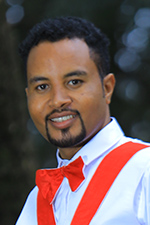 Aoyama Gakuin University is one of the most famous universities in Japan. Although it is a university that bases its education on Christianity, students from different religious backgrounds are welcomed and studying in the university liberally. I was introduced to Aoyama Gakuin University (AGU) by my organization, the Ethiopian Customs Commission when it advertised the scholarship opportunity provided by the World Customs Organization (WCO) in collaboration with the Japanese government in this university. Having read the advertisement, I rushed directly to the university's official website mentioned in the letter where I read the motto of the university "The Salt of the Earth, The Light of the World" which highly inspired me to study in the university in addition to its beautiful campuses, best professors, and quality education.
Both campuses in Shibuya and Sagamihara are full of all the necessary facilities with highly professional staff including a chapel for Christian students, and a Prayer room for Muslim students. The professors care about the students and what they do. If you try your best, there is no reason you would fail. The Shibuya campus is beautiful, placed in the center of Tokyo, which offers an opportunity to explore the city. I was scared to move away for college, but AGU feels like a home away from home along with the educational and social benefits. It is where you learn a lot not only from the university professors but also from your co-students. The social life, cultural exchange with students from other nine different countries around the world spice up your life in AGU.
The Strategic Management and Intellectual Property Rights Master's Program (SMIPRP) is thoughtfully organized by AGU's Graduate School of Business. The coordinators are so committed to assisting the students by providing timely information on academic issues, cultural events, and daily life in Japan. They are very supportive and helpful. The program is also designed to train young customs officers for making future leaders for the Customs Organization to assist the modernization and development process of the developing countries.
The SMIPRP's curriculum is prepared in a way that enhances the students' understanding of the courses and allows the students to share practical knowledge from field visits. Even though I couldn't enjoy the field visit and the face-to-face teaching-learning process in AGU except for one course due to the noble coronavirus outbreak, and its spread around the world, the professors imparted sufficient knowledge from their expertise through the online Webex and Zoom platforms.
After my arrival in Japan, the spread of coronavirus had scared me a lot. I was so concerned for the first time about the continuity of my study at Aoyama Gakuin University (AGU). But thanks to the university's commitment to delivering the program in this very scary and challenging situation, I am completing my study successfully with the help of God. Its spreading across the world also made me a bit anxious and panic at the beginning. But after I got awareness about behaviors and actions that expose to the pandemic through the information shared by the university via email, social, and some mainstream media, I turn out to be more relaxed and begin to focus on my schoolwork. At this point, the role of timely information sent to our email by SMIPRP program coordinators in relieving us from the concerns of infection cannot be overstated. Though it affects my mobility and visit to some cities in Japan, my study went well with the wise coordination of the school.
In general, AGU is a great, and safe place where you not only know you are getting a great education but also a great experience.
I am highly indebted to the World Customs Organization, Aoyama Gakuin University, and the Government of Japan for making this program possible. I was excited to learn of my selection for this honor and I am deeply thankful for your support. I am honored to be one of the recipients of this Scholarship and scholar of this prestigious university. Thanks to your kindness I am the first in my country to participate in this program. This one year study and life in Japan is an amazing experience that I will remember forever.
---
Sasipat Nokmeerod (Thailand, 2020-2021)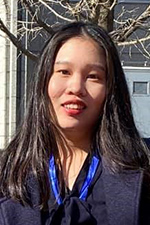 Having been reading this webpage of messages from current students for the past three years, it feels almost unbelievable that now I am the one who writes this message. It is such a great honor for me to be granted this scholarship by WCO and Japan government and to be a participant of SMIPRP 2020-2021 at Aoyama Gakuin University.
Strategic Management and Intellectual Property Rights (SMIPRP) at Aoyama Gakuin University is a program particularly designed for customs officers who will be taking essential parts in directing their customs administration in the future. Every year ten customs officers, who are nominated from their customs administrations in developing countries, will be selected to participate in this program. Principally, SMIPRP aims to equip them with solid knowledge in management, strategy formulation and implementation along with the usage of analytical tools. At the same time, apart from management schemes, customs-related courses and intellectual property rights courses are also given equal importance. Each course is arranged by highly knowledgeable professors and experts in the specific subjects. All this knowledge will assist students in thinking about how the operation of their customs offices and their organizations could be improved.
Even though this year's situation is different due to the global spread of Covid -19, making it not possible to attend all classes on campus, SMIPRP and Aoyama Gakuin University have tried their best to achieve the purpose of this program and deliver high-quality education to SMIPRP students proficiently. Despite almost all lectures being held online through online platforms like WebEx and Zoom, it does not obstruct interactive sessions at all. Energetic in-class discussions and presentations are greatly encouraged and the results are more than fruitful. I learned a lot from the lecturers with expertise in their fields as well as from my fellow classmates who always provide remarkable perspectives along with sharing interesting work experiences from their organizations.
Japan is a fascinating country with richness in history and cultures that you will fall for and want to visit again like I do. I first got to know Japan through manga and anime (Japanese cartoons and animation) during my school years. Later on, I have visited Japan twice as a tourist. Therefore, I have no hesitation when it comes to applying for this program. To have an opportunity to spend one year in Japan is an eye-opening experience for me. Public transportation in Japan is excellent as it connects you to most places, allowing you to explore Japan as soon as you walk out of your door. There are countless beautiful places in Japan from bustling cities to breathtaking sceneries of nature, in which you can discover throughout different seasons. I am very fortunate to meet friendly and helpful people everywhere I go.
In this occasion, I would like to express my gratitude to WCO, Japan government, Japan Customs and Aoyama Gakuin University for giving me this wonderful opportunity. Also, I would like to thank professors and coordinators of SMIPRP for their dedication and support that guide us throughout this one-year journey in Japan.
If you are a customs officer who is looking for an opportunity to enhance your knowledge and skills which will be beneficial for your career path together with a chance to explore different cultures and way of life, I truly recommend you to apply for this program. This is a memorable chapter of my life that I will always treasure.