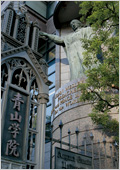 Our program is composed of various modes of training: lectures, individual supervision, practicum, and field trips. We believe that a mix of different modes of training helps enhance our program by helping students learn by themselves and from each other.
- Lectures: Most courses are given in the form of lectures. Our lecture classes (modules) run with an average of five students – small enough to encourage questions and discussions.
- Individual Supervision: This is an essential training mode for thesis preparation, with meetings held outside regular classroom hours by appointment.
- Practicum: The customs practicum features lectures, workshops, and seminars, and involves visits to regional customs, policy implementation/enforcement, examination, and other management issues. The practicum also involves the presentation of a paper and an additional opportunity to attend workshops led by the Japanese Customs Administration teaching staff. AGU houses the WTO Research Center (WRS) for international trade and WTO issues, which was established in 2003 and is located on Aoyama Campus. WRS studies the benefits of trade as it relates to safety, environment, and cost/price issues in the context of the world economy. This center is open to scholars pursuing WTO, FTA/EPA, or other related issues to enhance their research work.
- Field Trips: During the field trips, scholars visit private firms, public offices, and cultural sites to acquire practical knowledge and a feeling for the Japanese economy and society. In the program, we try to present scholars with the contrasting realities of the Japanese economy.

Course Title
Credit
Semester
Instructor
Strategic Management
Competitive Strategy Ⅰ
2
Spring
Hiroshi Yasuda
Competitive Strategy Ⅱ
2
Autumn
Hiroshi Yasuda
Management Ⅰ
2
Spring
Jiro Usugami
Management Ⅱ
2
Autumn
Jiro Usugami
International Development Strategy Ⅰ
2
Spring
Shozo Kitta
International Development Strategy Ⅱ
2
Autumn
Shozo Kitta
Multinational Financial Management Ⅰ
2
Spring
Akinori Tomohara
Organizational Behavior Ⅰ
2
Autumn
Norihiko Takeuchi
Intellectual Property Rights
Intellectual Property Rights Ⅰ
2
Spring
Tatsuya Saito/Tomoyuki Kanai/Yuichiro Shinma
Intellectual Property Rights Ⅱ
2
Autumn
Tatsuya Saito/Tomoyuki Kanai/Yuichiro Shinma
IPR Enforcement at the Border
2
Spring
Saori Nojima
Copyright Law
2
Spring
Hiroko Yamamoto/Atsushi Okada
Customs Administration
Multilateral Trading System Ⅰ
2
Spring
Yoshitomo Kondo
Customs Law
2
Spring
Toru Nagase
Customs Tariff Law
2
Spring
Toru Nagase
Practicum in Customs Administration
2
Autumn
Takashi Matsumoto
Customs Reforms & Modernization
2
Autumn
Maki Kitaura/Saori Nojima
Research Methodology
Master's Thesis Ⅰ (A)
2
Spring
Master's Thesis Ⅰ (B)
2
Autumn
Statistical Analysis
2
Spring
Michiko Miyamoto
Academic Writing
2
Spring
Hiroyoshi Hiratsuka
Notes:
1. A Master's Thesis is compulsory.
2. A minimum of 30 credits is required to graduate.
3. A Master of Arts degree in Business Administration, specializing in Strategic Management and Intellectual Property Rights will be given upon your graduation.

2016-2017 Academic Year
Spring
Date

Event/Deadline

April 1

Entrance Ceremony

April 8

Spring Semester Begins

April 15

Course Registration

August 2

Spring Semester Ends

August 3 - September 15

Summer Break
Autumn
Date

Event/Deadline

September 16

Autumn Semester Begins

End of September

Interim presentation

Mid January

Submission of Master's Thesis

February 1

Autumn Semester Ends

End of February

Final presentation and defense

March 25

Graduation Ceremony